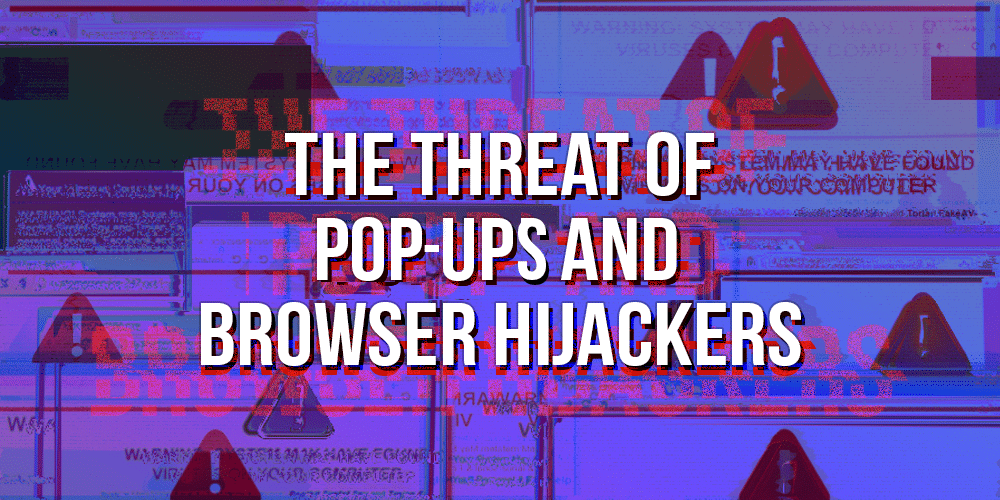 The Threat of Pop-ups and Browser Hijackers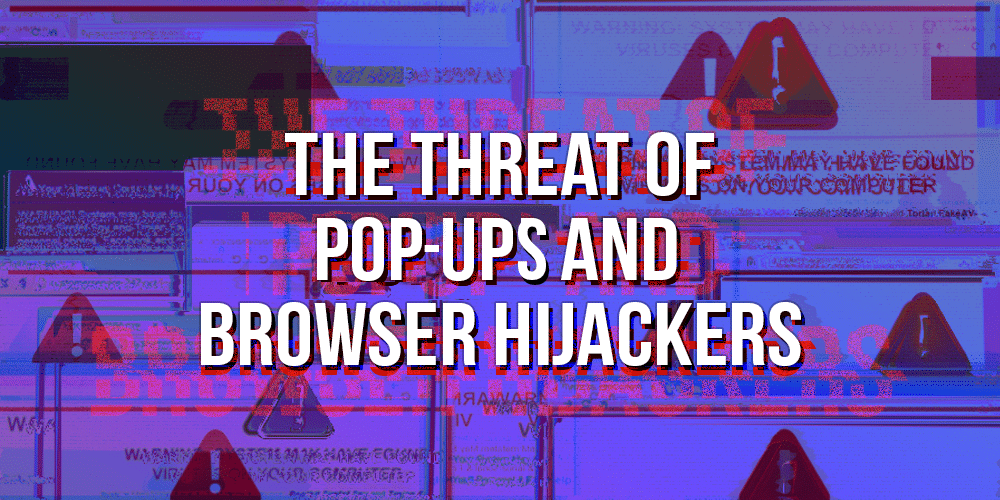 Pop-ups. We all know how annoying they can be, but did you know that there are pop-ups that target and attack your computer?


Last year several healthcare institutions and the City of Atlanta were hit with high-profile ransomware attacks that crippled their systems and encrypted their data unless a ransom fee is paid.
How does this happen?
When pop-ups attack, they generally disguise themselves as files you are trying to access/download, potentially downloading on their own just by visiting a page containing a malicious ad. While a majority of nasty pop-ups freeze your browser, there are a rising amount of attacks that come in the form of browser hijackers that change your homepage or disguise themselves as a search bar or browser plugin. While they may seem harmless, these PUPs (potentially unwanted programs) are generally spyware, malware, phishing or adware. These add-ons can hide or present themselves in plain view. A majority of us fall victim to ignoring them, leading to personal data being captured over a period of time, or worse providing all the data ourselves. Some attacks target the sites you visit (Facebook, Gmail, Twitter, etc.), replacing them with identical copies used to phish your login data.
So how do I get rid of PUPs?
When a browser addon has been added, your first instinct is to navigate to your Add-ons page to uninstall probably, but that can leave behind associated files.
We recommend downloading a quick tool called AdwCleaner by Malwarebytes. A quick 5-minute scan will find and eliminate adware, PUPs, and any other hijacks that may have taken hold of your browser.
What about Ransomware?
The other types of attacks come in the form of ransomware, attaching themselves to your system demanding money to return data. Some of these ransomware attacks aren't as sophisticated as others but will open windows that seem impossible to close, often opening multiple popup windows at the same time. These types of attacks are usually prompted with a phone number to call where scammers will ask you to pay money to unlock your browser. Don't let these fool you, kill your internet and close your browser. Although this may seem like the final fix, as a general rule of thumb, you should always run a scan to make sure no spyware, malware, or PUP's have attached themselves. In the case your system is hit with truly destructive ransomware, always trust a professional to eliminate the issue and make sure your system is secure again.
Whether you use Google Chrome, Firefox or Microsoft Edge, there are tons of great popup blockers to keep your browser safe from these nasty attacks. An extra click to open a popup you want is better than risking what you may come across on the internet.
Remember, when it comes to technology, your best defense is a great offense!
---
Pop-ups can cause a lot of headaches, and when you run into malicious pop-ups your business's data could be in jeopardy. Your business can't afford to have data stolen, make sure to stay proactive in today's digital age to stop these attacks dead in their tracks.

Contact us today at is@vervenetworks.net for more information on how to protect your data!